JACKSONVILLE, Fla. — After four days of deliberation, the jury in the trial of Michael Dunn, a Florida man who shot a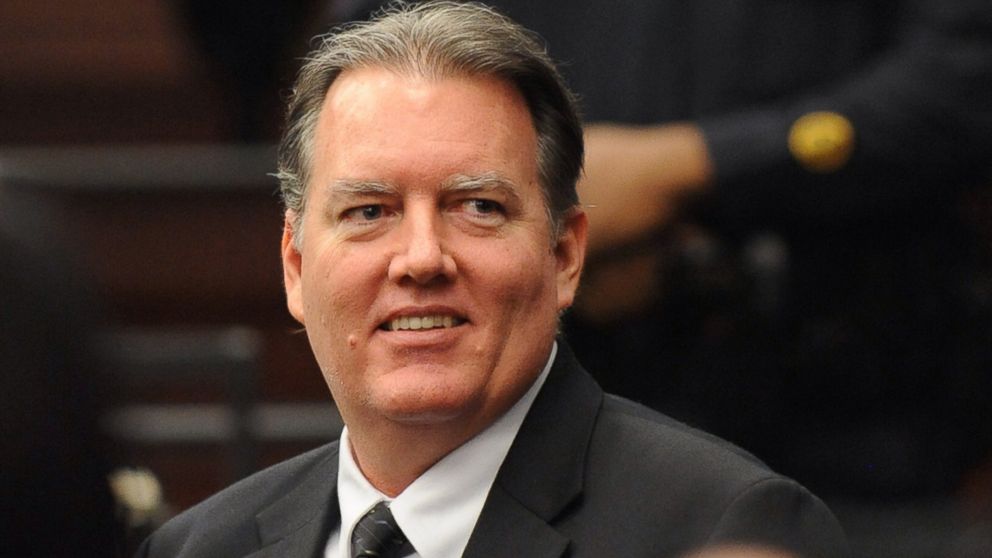 teenager to death in a parking lot during a dispute over loud music, said it could not agree on whether Mr. Dunn had acted in self-defense or was guilty of murder.
The jurors did find Mr. Dunn guilty of three counts of second-degree attempted murder for getting out of his car and firing 10 times at the Dodge Durango sport utility vehicle in which Jordan Davis, 17, was killed. Three other teenagers, the subjects of the attempted murder charges, were in the car but were not struck. Mr. Dunn continued to fire at the car even as it pulled away. On the attempted murder convictions, he could be sentenced to 60 years in prison.
Judge Russell L. Healey declared a mistrial on the count of first-degree murder, which applied only in the death of Mr. Davis. The jury also failed to reach agreement on lesser charges that are automatically included in jury instructions. Those were second- and third-degree murder and manslaughter. Prosecutors are free to move ahead with a new trial on the murder charge, if they wish.
The trial was tinged with racial overtones. Mr. Dunn is white, and the teenagers black.
The trial also drew renewed attention to Florida's expansive self-defense laws that allow people who say they feel threatened to use lethal force to protect themselves. It began six months after the verdict in another high-profile case that focused on race, in which George Zimmerman was acquitted in the fatal shooting of a black teenager, Trayvon Martin.
The 12 jurors, who had been sequestered since Feb. 6, consisted of four white men, four white women, two black women, one Hispanic man and one Asian-American woman. Some black leaders expressed disappointment that there were no black men on the jury.
The deadlock means that at least one person on the jury had reasonable doubt about the prosecution's version of events.
Prosecutors had argued that Mr. Dunn did not shoot Mr. Davis out of fear for his life, as he testified. He shot him, they said, because he was enraged that when he asked the teenagers to turn down the music booming from their car in a gas station parking lot — Mr. Dunn described it to his fiancée as "thug music" — Mr. Davis did not do so and then cursed him.
Op-Docs: 'When Loud Music Turned Deadly'

FEB. 3, 2014
Prosecutors argued that Mr. Dunn had had enough time to reflect before acting, which was why they accused him of premeditated murder.
Coming on the heels of their failure last July to convict Mr. Zimmerman, the verdict was a significant blow to prosecutors. Mr. Dunn's case was so important to the state attorney for Jacksonville, Angela Corey, that she participated in the trial. Ms. Corey was the special prosecutor in the Zimmerman case.
"The verdict won't sit well with the black community in Jacksonville," said Ken Jefferson, a vice president for Operation Save Our Sons, a group that tries to help young men in Jacksonville, where blacks make up 30 percent of the population. "There is a feeling of being able to shoot black people and get away with it," he said, particularly after the Zimmerman case.
Mr. Dunn's lawyer, Cory Strolla, said prosecutors had overcharged Mr. Dunn, reaching for premeditated murder because they were seeking vindication after their showing in the Zimmerman trial. "It happening on the heels of a not-guilty verdict in the George Zimmerman case escalated that political pressure," Mr. Strolla said.
In a statement Saturday issued before the verdict, the parents of Mr. Martin said that no matter the outcome, Mr. Davis's parents would never see their son again, and added that the killing is "yet another reminder that in Florida, racial profiling and stereotypes" may serve as the basis for illegitimate fear "and the shooting and killing of young teenagers."
Mr. Dunn, who testified on Tuesday, told jurors that Mr. Davis had pointed a shotgun at him from the window of the Durango, threatened to kill him and then tried to get out of the car. It was only then, Mr. Dunn said, that he reached into his glove box, unholstered his 9-millimeter pistol, put a round in the chamber, and fired 10 times.
"It was Jordan Davis who kept escalating this to the point where I had no choice but to defend myself," Mr. Dunn said on the stand. "It was life or death."
Mr. Davis, a high school senior who had spent the day with three friends at the mall on the day he was killed, Nov. 23, 2012, was hit three times and died in the car. He would have turned 19 on Sunday. Prosecutors argued that Mr. Dunn had fabricated his story about the shotgun to bolster his self-defense claim. The police never found a shotgun, and no witnesses ever reported seeing one. The teenagers testified that none of them had a shotgun in the car. That was why no one shot back at Mr. Dunn, the prosecutors said.
The trial, which lasted six days before deliberations began on Wednesday, was the latest courtroom test for Florida's expansive self-defense statutes, including the so-called Stand Your Ground provision. Under the law, Mr. Dunn needed only to have been convinced that he saw a shotgun, whether or not one was present.
Since their son's death, the Davises have worked to try to change Florida's self-defense laws, including the Stand Your Ground provision, which grants wide latitude to people who believed they face a threat.
Prosecutors portrayed Mr. Dunn as a man who felt threatened right away because he viewed the teenagers as "gangsters." Mr. Strolla disputed that notion and said Mr. Dunn has maintained it was the violent rap subculture, not race, that influenced Mr. Davis's behavior.
"He testified very straightforward and honest," Mr. Strolla said.
In what prosecutors called a "wow" trial moment, Mr. Dunn's fiancée, Rhonda Rouer, shaking on the witness stand, said that Mr. Dunn had not mentioned to her in the night and day they spent together before his arrest that any of the teens had a shotgun. Ms. Rouer was inside the gas station convenience store when the shooting occurred.
But there were weaknesses in the prosecutors' case.
Mr. Strolla repeatedly told jurors that no shotgun had been found because the police had failed to thoroughly search for it after the shooting. The teenagers, he said, had three minutes to hide the weapon after they pulled out of the gas station to a nearby lot to escape the gunfire.
A detective on the stand acknowledged that the search had been limited. But prosecutors said that was because Mr. Dunn never called the police.
Mr. Strolla, at a news conference before the verdict, said, "They thought this was just another murder in Jacksonville."
Mr. Strolla also underscored what he said were inconsistencies in the testimony of the teenagers who were in the car that night and cast doubt on the witness who said he had heard Mr. Dunn say, "You're not going to talk to me that way," before reaching for his pistol.
Prosecutors also told the jury little about Mr. Davis, who had no criminal record and had no drugs or alcohol in his system when he died.
Throughout the trial, prosecutors asked jurors to use "common sense" when considering Mr. Dunn's behavior after the shooting, which they said did not jibe with the actions of a man who had fired in self-defense.
Full Article:  http://www.nytimes.com/2014/02/16/us/florida-killing-over-loud-musi...