UNITED NATIONS — At the United Nations General Assembly, Egypt's new president made his debut Wednesday, while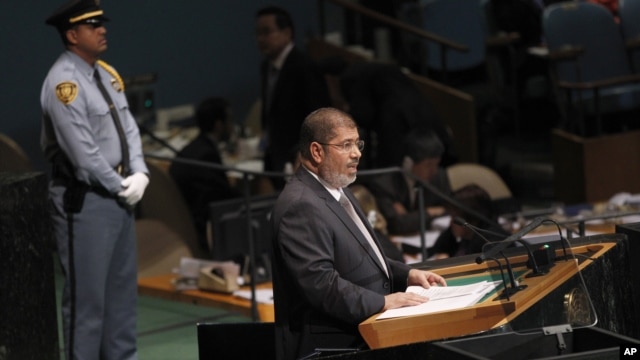 Mohammed Morsi, President of Egypt, addresses the 67th session of the United Nations General Assembly at U.N. headquarters,
September 26, 2012
Iran's president gave his final speech to the annual gathering. Away from the podium, leaders discussed crises in the Sahel, Somalia and Middle East. Egypt's new president, Mohamed Morsi, introduced himself as his country's first civilian president elected democratically following a peaceful revolution. He laid out the new Egypt's vision on issues in the Middle East and Africa and denounced a recent video that mocked Islam.
He said the most important issue facing the international community is the need to resolve the Israeli-Palestinian conflict. "I call upon you all, just as you have supported the revolutions of the Arab peoples, I call upon you to lend your support to the Palestinians in their endeavor to regain the full and legitimate rights of a people struggling to gain its freedom and establish his independent state," 
​​On the crisis in Syria, President Morsi said the bloodshed must end and the humanitarian crisis stop. He urged the opposition to propose a unified vision of a democratic transfer of power and said the time would soon come for the Syrian people to decide their destiny. "After this regime - the current regime - comes to an end -- the regime that kills its people day and night - after this regime comes to an end, the Syrian people will choose, with their own freewill, a regime that represents it and places Syria in its right place among democratic countries," 
.

                     T.E.A.M...  TOGETHER EVERYONE ACHIEVES MORE
Donate To Zakat U.S.A. Donations Tax Deductable

        Save more lives with 2.5
**************************************************************************************************************************************
WE NEED YOUR HELP SO WE CAN HELP!  PLEASE DONATE TODAY ZAKAT U.S.A.