Naveed Shinwari is one of four American Muslims who filed suit against the government this week for placing them on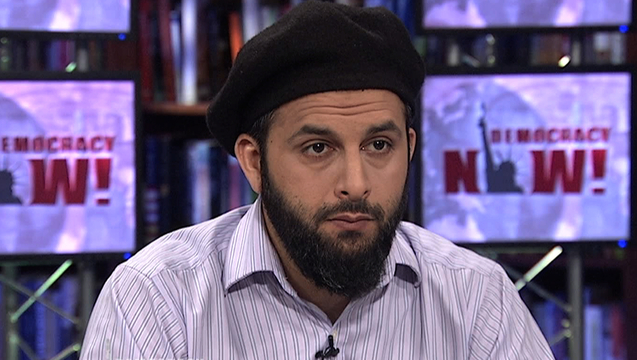 the U.S. "no-fly list" in order to coerce them into becoming FBI informants. The plaintiffs say the government refuses to explain why they were named on the no-fly list. They also believe that their names continue to be listed because they would not agree to become FBI informants and spy on their local communities. "It's very frustrating, you feel helpless," Shinwari says. "No one will tell you how you can get off of it, how you got on it. It has a profound impact on people's lives." We are also joined by Shayana Kadidal, senior managing attorney at the Center for Constitutional Rights, which is seeking to remove the men from the no-fly list and establish a new legal mechanism to challenge placement on it.
This is a rush transcript. Copy may not be in its final form.
JUAN GONZÁLEZ: We begin today's show with the story of four American Muslims who say they were placed on the U.S. no-fly list by the FBI after they refused to become government informants. They say they were barred from flying, not because they were accused of any crime, but because they refused government requests to spy on their own communities. On Tuesday night, the men filed a lawsuit seeking their removal from the no-fly list, as well as a new legal mechanism to challenge placement on it.
The New York Times reports the list, officially called the Terrorist Screening Database, has grown to at least 700,000 people. The government refuses to reveal who is on the list, how one can get off it, and what criteria are used to place someone on it in the first place.
AMY GOODMAN: Well, for more, we're joined by Naveed Shinwari, one of the four American Muslims filing a lawsuit accusing the FBI of unjustly placing them on the no-fly list and trying to coerce them to spy on their community. Also with us is Shayana Kadidal, senior managing attorney at the Center for Constitutional Rights. CCR is representing the four men, along with the City University of New York's Creating Law Enforcement Accountability & Responsibility program, or CLEAR.
We welcome you both to Democracy Now! Naveed, let's begin with you. Tell us your story. What happened?
NAVEED SHINWARI: Thank you, first of all, for having us. I've been a big fan of the show since college days.
Well, in October 2011, I went on a Hajj pilgrimage, religious pilgrimage, with my mother. And after that, we went to Afghanistan, and that's where I got married, too. On the way coming back, late February of 2012, I got—I was trying to obtain a boarding pass in Dubai. My flight was from Kabul to Dubai and then to Houston. And I was denied boarding pass in Dubai. I was told that I had to go outside and meet with the immigration, U.S. immigrations, or the embassy, consulate. I had to obtain a temporary visa. And my mother and I, we went out, out of the airport.
And then I was interrogated by two FBI agents for roughly about four hours, and I was told to—I was pressured to give them everything that I knew in order to go back home. And then they will—the more that I give them, the better chances of me coming back home that I had. I was told to take a lie detector test, and they wanted to take photos with their phone of mine, and which, both of them, I refused, because I was very truthful to them from the beginning.
Finally, after five days, we were able to—we had to buy new tickets, and we were able to come to the U.S. Then I was interrogated at the airport in Washington by a couple of FBI agents. And then I had several visits in my house. In March of 2012, I found out that I was on the no-fly list, when I had a flight to Orlando for a job. And in the airport, I was escorted by police officers telling me that I could not fly anymore. That's the first time I found out.