TALLAHASSEE, Florida (Reuters) - A woman sentenced to 20 years in prison after firing a "warning shot" during an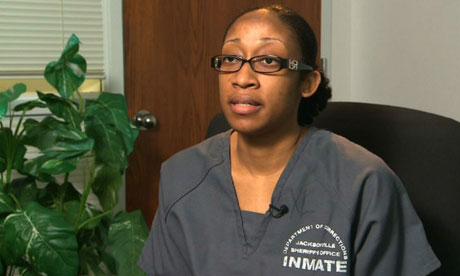 argument with her abusive husband won a new trial on Thursday in a case under Florida's controversial self-defense law.
A state appeals court ruled that Marissa Alexander, 32, deserved a new trial because the judge failed to properly instruct the jury regarding her claim of self-defense.
No one was injured in the shooting but because Alexander fired a gun in the incident, Florida's mandatory-minimum sentencing guidelines required the judge to sentence her to 20 years in prison.
The case of Alexander, who is black, drew criticism from civil rights groups concerned about self-defense laws and mandatory minimum sentencing rules.
Alexander's fate received little attention until her May 2012 conviction in the wake of the case of volunteer watchman George Zimmerman who said he shot a teenager in self defense. The Zimmerman case led to nationwide protests and re-ignited a debate about U.S. gun laws.
Zimmerman, who is white, said he killed an unarmed black teenager, Trayvon Martin, in self defense in February 2012. He was acquitted of murder charges in July at his trial in the central Florida town of Sanford.
Under the so-called "Stand Your Ground" law, people fearing for their lives can use deadly force without having to retreat from a confrontation, even when it is possible.
The 1st District Court of Appeal in Tallahassee said in Thursday's ruling that the trial judge made a "fundamental error" when he instructed the jury that Alexander was required to prove self-defense beyond a reasonable doubt.
"The defendant's burden is only to raise a reasonable doubt concerning self defense," Appeals Court judge Robert Benton wrote for the court.
Local leaders from the National Association for the Advancement of Colored People, the Southern Christian Leadership Conference and the National Action Network have called for Florida Governor Rick Scott to pardon Alexander.
The groups have asked the governor to create a task force to investigate mandatory sentencing laws, which they say disproportionately affect black Americans. They also want an existing task force
 looking into Florida's "Stand Your Ground" law to examine how that statute has affected domestic violence victims.
Alexander was found guilty of aggravated assault with a deadly weapon because her husband's two children were in the house during the argument in August 2010.
A slightly built woman who stands 5 feet 2 inches (1.57 meter), Alexander said her 245-pound (111 kg) husband Rico Gray, was moving toward her threateningly when she fired into a kitchen wall. He had previously been convicted on a domestic violence charge for attacking her.
Gray's two children were at home, in the living room. Prosecutors said the shot endangered Gray and the children.
Alexander filed a "Stand Your Ground" claim, but a judge ruled against her because Alexander chose to go back into the house with her gun.
A jury took just 12 minutes to find her guilty of three counts of aggravated assault with a deadly weapon.
At the time, Alexander had an active restraining order against her husband and she carried a concealed weapons permit.
(Editing by David Adams and Grant McCool)