I have a few comments about yesterday's program sponsored by Arab America in conjunction with the University of the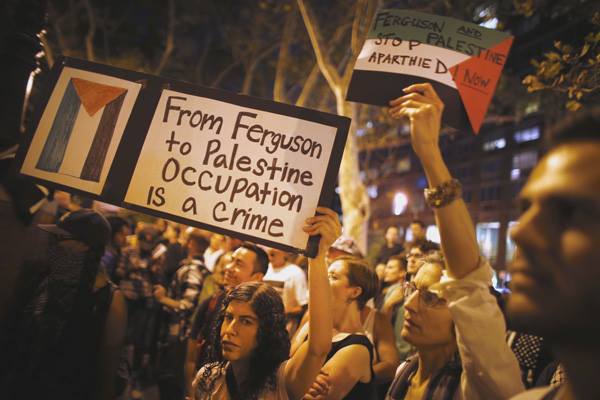 District of Columbia (UDC).  I offer these comments to you sincerely and appreciatively, hoping that you will share or forward them to whoever is responsible for arranging last night's program.  Here are my concerns:
(1)  The VIP reception was not appropriate for this occasion in my humble opinion.  The idea of bringing together African Americans and Arab Americans, both of whom have and continue to be discriminated against, harassed, targeted, and abused by hostile forces in this country was meritorious.  However, any expression of class division and social preference is not in the spirit of the issues we are facing today (police abuse, judicial prejudice, spying on the citizenry, media-bashing, misrepresentation of the Palestinian and Israeli conflict...).  This gathering should have reflected, from beginning to end, the grass roots spirit and fraternity of our twin-identities (Arabs and Africans) and twin struggles in this country and beyond today.  This is very important when it comes to a program that links the life and legacy of a person like Malcolm X, and by extension his progeny, who should be a vibrant voice and symbol of his commitment to racial and social justice, truth-telling, intelligence, and an all-out struggle, especially for those at the bottom rung of society.  
(2)  Ambassador Attallah Shabazz, the evening's keynote speaker, should have been made available to the public at the end of the program.  She could have very easily been positioned in the lobby area (with security personnel if that was a concern) whereby she could have briefly communicated with anyone interested in meeting her.  Keeping her isolated and separated from the public - many of whom wanted and waited to see her emerge from behind closed doors - was inappropriate and insensitive.  If she, Ms. Shabazz, expressed to program organizers that she did not want to expose herself to the pubic for whatever reason, that's another story.  Secondly, if her recent arrival from a foreign trip left her fatigued and too tired to meet with the public, that could have been expressed to the audience/guests, who took time out from their evening schedule to attend the program.  Conversely, if the organizers made a decision to deny her access to the public while keeping her within their private company-circle, this was not a good decision in my humble opinion.  Just to add: For at least fifteen years, an organization, Al-Mizaan Inc., that I'm a member of used to sponsor weekend programs honoring the life and legacy of Malcolm X (Hajj Malik El-Shabazz).  We used to hold a one day/evening conference on the campus of Howard University wherein we invited prominent guest speakers (academics, writers, intellectuals, community activists, friends and companions of Malcolm X...) to share their inner thoughts and global perspectives regarding our martyred friend and brother, Malcolm X, may he rest in full peace.  The conference used to take place on Saturdays.  On Sundays, we used to visit Brother Malcolm's and his wife, Dr. Betty Shabazz's, grave in Hartsdale, New York.  We would rent a 45 to 50 seat passenger bus for the excursion - departing early in the morning for the four hour plus trip to New York.  This weekend memorial program was and remains one of the highlight annual commemorative programs in Washington, DC history , Al-Hamdulillah (all praise and gratitude belongs to Allah).  For many years, we, Al-Mizaan Inc., tried to make contact with Ambassador Attallah Shabazz without much success. I'm sure we are not alone in this outreach effort.  Again, not allocating some time for the people - the common people - to meet and perhaps take a picture with Ms. Shabazz was a huge mistake and very insensitive.  Mind you: She is the oldest daughter of Hajj Malik El-Shabazz (Malcolm X and Dr. Betty Shabazz).  She is an honored, respected "celebrity" whether she wants to be or not.  At this very moment in time, Malcolm X is being studied around the world.  His life and legacy is and shall remain among the "heavy weight class."  He nor his children can ever be placed among the "light weight class," even if they want to join this social class.  This is how the people feel about this martyr, and by extension, this feeling of respect ultimately makes its way to his children. This is an honor they must cherish and nurture despite their earthly, biological, parental loss which in turn, became a glowing victory for struggle, honesty, humility, and social justice no matter when or where.
(3)  The African-American female singer who sang in Arabic language was indeed talented.  However, not knowing the meaning of her songs was inconsiderate, especially for a predominant non Arabic-speaking audience.  The MC could have at least said a sentence or two explaining the meaning of her songs.  It seemed like the only consideration was to showcase a very physically attractive, partially dressed, African-American female singer, who has learned how to sing in Arabic language without knowing how to fluently speak or understand the language.  Her manner of dress was very problematic considering the aim and purpose of the gathering (bringing together the Arab American and African American communities who are facing discrimination, racism, abuse, media bias, and who need to sort out effective strategies that will eliminate these social evils).  Last night should not have been an occasion anyway similar to the Academy Awards/Oscars or Grammy Awards programs.  I know this is a touchy concern, but I believe we need to hear and listen to each other's concerns if we want to respect and accommodate each other's sensitivities and values when and where possible.  
In conclusion, I want to thank everyone who played some role in organizing the program.  Along with my wife and friends, we want to express our thanks for the opportunity to share the evening with the presenters (UDC's interim president, singers, and keynote speaker), and of course, the people - the friends, lovers, and admirers of the Shabazz legacy - who traveled from near and far to find out where we might go from here.  The crisis in American states and cities that has resulted in the maiming and killing of innocent African American youth, especially young Black men, by criminal law-enforcement elements is a real issue that we should collectively address.  The illegal, shameful support of American politicians, wealthy business owners, and the far-right Christian community supporters of Zionist brutal policies in the occupied land, Palestine, is a real issue that we should collectively address.  The intentional mass-media-mislabeling and defamation of Arabs, Muslims, and African Americans which has been going on in this country for centuries, is a real issue that must be collectively addressed. Yesterday's program should have been a step in this direction.  It should have been a time to inspire, to educate, to awaken, to empower the community regarding how we can work together to overcome what we are collectively facing.  This is what I believe the audience wanted and needed to hear.  We, all of us, need to see and hear people - our trusted people - who are brave enough, committed enough, and caring enough to unite us in an uncompromising effort to remedy our social ills.  The precious life of Mike Brown, Eric Garner, Trayvon Martin, Yusor Mohammad Abu-Salha, Deah Shaddy Barakt, and Razan Mohammad Abu-Salha (the three Muslim Arab Americans who were killed execution style three weeks ago in Chapel Hill, North Carolina) must not be forgotten.  We must honor and dignify these precious lives with a serious, determined, sacrificing effort whose mission is to prevent and stop the ugly head and face of government and media-sponsored injustice, bigotry, racism, and Islamophobia from resurfacing over and over again.  We must find a way to liberate ourselves from the comforting choke-hold that characterizes many of our lives today here in America. People are being killed while some of us sing and dance.  People are being falsely accused and imprisoned why we create VIP zones for those considered "special" among us.  People are living in fear while some of us are cozying up with forces inimical to our identity, freedom, and safety.  It's a time for change; real change that makes a difference and endures.
My apology if this communication fails to achieve its objective.  I hope this isn't the case considering all that is at stake.
All the best and may strong faith, justice, peace, and prosperity become your companion in this life and the next life.
Sincerely,
Salahuddeen Abdul Kareem