As-Salaamu Alaikum,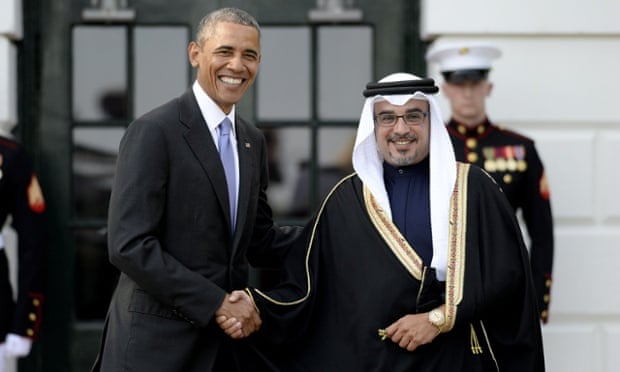 Bismi'Allah Ar-Rahman, Ar-Rahim
Al-Hamdulillah, today is the blessed day of Al-Jumu'ah.  It's the day when the entire Muslim world should turn its attention to Ar-Rahman, Ar-Rahim, Al-Khaaliq, Al-Jalil, Al-Qawiy, Al-Aziz exclusively in search of His guidance, forgiveness, mercy, compassion, and support.
Sadly and unfortunately, this week the "leaders" of Muslim majority countries from the Gulf region (Qatar, Kuwait...) have come to Washington, DC to beg for America's military support and security guarantee in the event a Muslim country, the Islamic Republic of Iran, "destabilizes" the Gulf country and their countries in particular.  In return for this support and security, they, the Arab secularist leaders, have promised to purchase billions if not trillions of dollars of military and security equipment from American corporations.  Of course to pull this treasonous act off (aligning themselves with a non-Muslim country against a Muslim majority populated country i.e. Iran), they have ignited the public relation flames of sectarian, takfiri hatred and hostility against the Islamic Republic of Iran that "if necessary," will legitimize bombing and ultimately murdering innocent children, women, and men who reside in Iran's cities and villages.
This troubling development which has surfaced for all to see, needs a thorough, frank, and truthful analysis for and by the Muslim public at large.  And on this day, Al-Jumu'ah Al-Mubaarak, one would expect the community leaders (Imams, intellectuals, academics, speakers, writers...) to discuss this development in their khutbah sermons and speeches, and evening halaqahs (learning/discussion/thinking circles).   This is the day wherein truth-telling must prevail if we are really honest and truthful with ourselves, our community, and our Lord Supreme.
We, the Muslim community, should be asking ourselves in light of this Arab leaders shameful pilgrimage to the White House and Camp David: Does Islam allow Muslim leaders (imposed or elected) to enter into a potentially deadly military alliance and "ironclad agreement" against a brother/sister Muslim nation?  We should be asking ourselves: If the Islamic Republic of Iran has gained and worked hard to maintain its theological, ideological, and political identify for the past 36 years (since 1979), how many countries - friends or foes - has it invaded, occupied, colonized, exploited, and/or bombed?  We should ask ourselves: If the Islamic Republic of Iran has destabilized or might destabilize the Gulf region, what is the nature or factual reality of this destabilization?  What have they done?  What is their crime?  What is it that they've done that deserves American and Israeli bombs and bullets targeting the hearts, heads, and limbs of fellow Muslim brothers and sisters - children, women, and men?  Could it be the Arab regimes are hiding something, that if and once Iran is silenced (attacked) their, the Arab rulers, oppressive identity with its false piety and religious fervor might be exposed for all to see?  Why are these money-wasting, resource plunderers, Arab sultans, princes, kings, amirs... so worried about the Islamic Republic of Iran strengthening its internal self for its people, its nations, its friends, its brothers and sisters around the world?  Why are they, the Arab rulers, so fanatical and frightened by Iran's independent presence in the region?  Would they prefer seeing Iran suffering and squirming beneath the dirty, blood-soaked boots of the former, ruthless, brutal dictator, Reza Shah Pahlavi? Today's Islamic Iran, in the minds of the Arab-ruler pilgrims who visited America this week, is better off running and hiding from Iran's pre-revolution Savaki terrorists, torturers, and killers who distinguished themselves by sapping the blood and life of innocent Muslims whose only cry and demand was freedom, liberation, and respect.
Finally, next week (May 19) is the birthday of El-Hajj Malik El-Shabazz, Malcolm X (may Allah preserve and have mercy on his martyred soul).  No doubt, many Imams, speakers, intellectuals, and others will reference this brave, fearless, humble Muslim leader in their public presentations.  They will talk about how great he was!  How smart he was!  How concerned he was for his people; African-Americans who were the victims of enslavement, racism, and discrimination in this country for at least 300 or more years. How he transformed himself from being a racist follower of Elijah Muhammad to becoming a real "Sunni Muslim" after making his Hajj!  They will say many nice things about this shaheed next week.  However, a few questions arise at this moment: How many of us are honest and truthful when it comes to admiring and implementing some of the dimensions of his heroic life and legacy; a life and legacy of speaking truth to power;  a life and legacy of analyzing life and death events in a honest, truthful, open manner for any willing person to embrace and understand?  Today, we are witnessing with our own eyes, the presence (probably they've left by now) of a few Arab rulers in this country - America, the country whom many of us describe as our beloved home that requires our activism, loyalty, and civic engagement - who have come to secure the government's promise of military intervening in their internal affairs with respect to another Muslim country i.e the Islamic Republic of Iran.  These rulers have offered America's military, industrial complex billions upon billions of dollars in exchange for a commitment to bomb, destroy, injure, and kill other Muslims in a Muslim-majority country.
Will we hear some of this analysis, insight, and reflection in today's khutbahs and evening speeches?  Will we hear anything about Islamic unity, brotherhood, self-reliance, independence, freedom, liberation, and dignity in today's afternoon prayer services (Salatul-Jumu'ah)?  Or will we hear what we routinely hear from many of our houses of worship on Fridays: Lessons anchored in morality and virtue which are suitable and fine yet, very often devoid of context and relevance with regard to unfolding events in today's world?  
All the best, and may Allah Almighty shower us with His light, enlightenment, guidance, and favor.
Wa Salaamu Alaikum wa Rahmatullah wa Barakaatuh,
Usthadh Salahuddeen Abdul Kareem