LOCKPORT, N.Y. (AP/CBS) — Plenty of teenagers have replica jerseys of their favorite NFL
player. Tawfiq Baity
had his hand-delivered by his football idol.
New England tight end Rob Gronkowski surprised the 17-year-old junior at Lockport High School outside Buffalo by walking into his history class Tuesday morning and handing him a New England jersey with Gronkowski's name and number 87.
"I was really happy and shocked yesterday; it was a complete surprise," Baity told WBZ NewsRadio 1030 on Wednesday morning. "I've been a really big New England fan, and I really enjoyed seeing a Western New York native go into the big league. I enjoy seeing how good he is and enjoy his story."
Gronkowski is the teen's favorite player on his favorite team. Gronkowski was accompanied by his brother, Dan, a tight end for the Cleveland Browns
. The brothers grew up in the nearby Buffalo suburb of Williamsville.
Baity has cerebral palsy and uses a wheelchair. He came to Gronkowski's attention after appearing in a "get-well" video Lockport students produced for the player after he broke his arm late last season.
***********************************************************************************************************************************
Superstar NFL Player Visits Lockport HS
By WKBW Admin
LOCKPORT N.Y. (WKBW) It was the surprise of a lifetime for 17-year old Tawfiq Baity from Lockport.
The junior high school student has cerebral palsy and cannot move his arms, but he is a big New England Patriots fan.
Last Fall, Tawfiq recorded a special video for WNY native and All-Pro Player - Rob Gronkowski, after the football player was injured in a game.
"I saw it on websites . . . so it was cool," added Rob Gronkowski.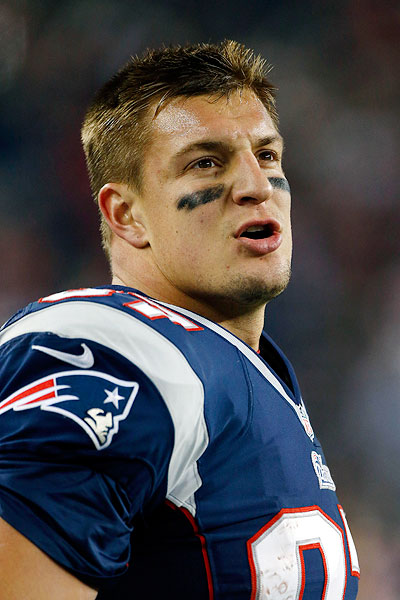 Tuesday morning, Gronkowski and his brother Dan made a surprise visit to Lockport High School to thank Tawfiq in person.
Gronkowski presented the teenager with a signed Patriots football jersey and posed for pictures.
In return, Tawfiq offered the NFL star some advice: "You really have to take care of yourself in the off-season."
The comments made everyone in the room break out into laughter.
The event was organized and recorded for the internet by Hass Saddique, a Riverside High School graduate from Buffalo, who travels the country arranging life-changing events as part of Project S.W.A.G.G (Simple Winning Applying God's Gift).
"I think my God given gift is making people happy and helping people," said Saddique.