Sept. 3, 1944: It's a damp evening in the Alabama black belt, nearly midnight, but services at Rock Hill Holiness
By: Cynthia Gordy
Church in the small town of Abbeville have just let out. Recy Taylor, a 24-year-old sharecropper, sets out along the town's fertile peanut plantations, accompanied for the walk home by two other worshippers from the African-American congregation. Moments later, a green Chevrolet rolls by -- and their routine journey takes a horrifying turn.
Wielding knives and guns, seven white men get out of the car, according to Taylor and witnesses from a state investigation of the case. One shoves Taylor in the backseat; the rest squeeze in after her and ride off. Her panicked friends run to tell the sheriff.
After parking in a deserted grove of pecan trees, the men order the young wife and mother out at gunpoint, shouting at her to undress. Six of them rape Taylor that night. Once finished, they drive her back to the road, ordering her out again before roaring off into the darkness.
Days after the brutal attack, Taylor's story traveled through word of mouth, catching the attention of a Montgomery NAACP activist named Rosa Parks. A seasoned anti-rape crusader, who focused on the sexual assaults of black women that were commonplace in the segregated South, Parks would eventually help bring the case international notice. Despite her efforts, however, in Jim Crow-era Alabama, Taylor's assailants were never punished.
It's curious, to say the least, that Taylor's name is not mentioned in history books. While most analyses of circumstances that inspired the civil rights movement focus on black men -- being lynched or railroaded into jail, or facing down segregationists -- the stories of countless black women like Recy Taylor, who were raped by white men during the same era, have gone understated, if not overlooked entirely.
Nearly 70 years later, having such a brutal attack swept under the rug is still a source of pain for a surviving victim.
"Wasn't nothing done about it," Taylor, now 91, told The Root in a phone interview from her Florida home. "The sheriff never even said he was sorry it happened. I think more people should know about it … but ain't nobody [in Abbeville] saying nothing."
Organizing a National Movement
At the time, others -- more than she ever knew -- did speak out in defense of Taylor. Her brother Robert Corbitt, now 74, was just 8 years old when his eldest sister was kidnapped, but he remembers that night well, and all that followed.
He recalls crying on the porch of their childhood home as their father, Benny Corbitt, went out looking for her. "He came back by the house about three times, and each time, his shirt was wringing with sweat," he told The Root. "Nobody slept that night."
Another Of Our Freedom Fighters...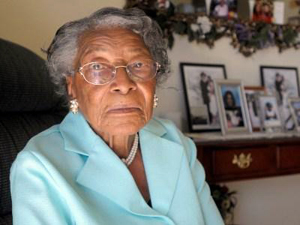 Mrs. Recy Taylor...This Our Black Motherhood...
Pdf of book:  http://books.google.com/books?id=dtUVU1kKfqYC&pg=PA149&lpg=...
Below The Picture Of The Young African American Hero Who Pushed This Story...
Full Story:  http://www.theroot.com/articles/culture/2011/02/recy_taylor_a_symbo...