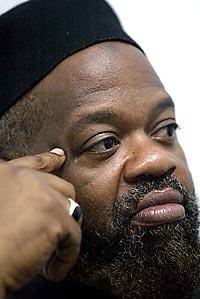 Imam Talib Abdur-Rashid
الله
يعطيه
الشفاء
الكامل
و
يغفر له
ذنوبه
Update:  05/26/2011:  13:40
Imam Talib reported to us that the infection in his foot is responding well to antibiotics and rest, so the doctors have decided against surgery.  Al-hamdulillah.  Let us pray that Allah blesses Imam Talib with a speedy and full recovery. 
On another positive note, Imam Talib was elected President of the Majlis ash-Shura of New York City recently. 
Dr. Ihsan Bagby
We just received word that Imam Talib is in Mt. Sinai hospital in NY for treatment for high blood sugar and surgery for a foot infection.  We ask Allah to bless Imam Talib with full recovery.  Shafaahu Allah.  Please make du'a for Imam Talib's health.  When we get more information we will pass it on.
Dr. Ihsan Bagby