Imam Jamil Biopsy Results 12 August 2014 17 Shawal 1435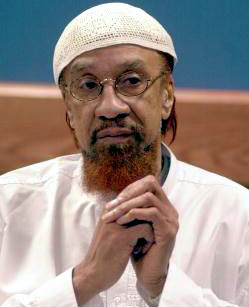 Click Link Below For Interview With Sister Karima Al-Amin...
Press TV On Imam Jamil Al-Amin
Calls mounting in US for release of African-American Imam
Calls are growing in the US for the release of prominent Imam Jamil Abdullah al-Amin. The African-American Imam has been held in the remote federal Supermax prison of Florence, Colorado, since 2007. The social civil rights leader is...
Press TV On Imam Jamil Al-Amin
   12 August 2014  -  17 Shawwal 1435
UPDATE AND CALL TO ACTION 
FOR IMAM JAMIL AL-AMIN
UPDATE: IMAM JAMIL BIOPSY RESULTS
Imam Jamil and his family have received the results of his biopsy from a physician at BOP's Butner Medical facility. According to the report, Imam Jamil has an early stage myeloma and will not be receiving cancer drugs, radiation or other medical interventions at this time. However, the same doctor stressed the importance of Imam Jamil's condition being closely monitored, with continued and regular biopsies at two-to-three-month intervals to check for increased levels of myeloma cells. We are deeply concerned that BOP may consider returning Imam Jamil to the Florence ADMAX USP, where he will not receive the proper medical care and follow-up that his condition requires and that is his right.
YOUR EFFORTS ARE STILL NEEDED

 Because of your efforts, Imam Jamil has received a needed biopsy and timely results at a proper medical facility. Your continued efforts are needed to advocate for the medical care and follow-up that Imam Jamil urgently needs. 
OUR ADVOCACY FOR IMAM JAMIL
Our advocacy for Imam Jamil is that: (1) 
Jamil Al-Amin #99974-555 be housed at a BOP facility in Butner, where (2) he receive regular biopsies to monitor growth of myeloma cells in his body; (3) that he receive the on-going and qualified medical care necessary to monitor and treat his disease, as is his right; and (4) that he not be returned to Florence ADMAX USP due to that facility's demonstrated inability to provide for basic medical and dental care or for medical emergencies; let alone the specialized care that Imam Jamil's medical condition requires, and as is his right.
YOUR RESPONSE IS CRITICAL
S
ELECT LOCATION
:
Florence ADMAX USP
Y

OUR EMAIL

:           

Include your email to get a confirmation
ENTER INMATE
:        
Jamil Al-Amin #99974-555
YOUR CONCERNS
:   See advocacy above
FLM/execassistant@bop.gov
(see advocacy above)
PLEASE RESPOND REPOST AND RETWEET
May Allah bless and protect Imam Jamil and his family. Ameen.
  And, may Allah bless you for your response to this call. Ameen.
#SupportImamJamil