The case of water protectors in North Dakota is getting worse and worse by the day. The pipeline, which would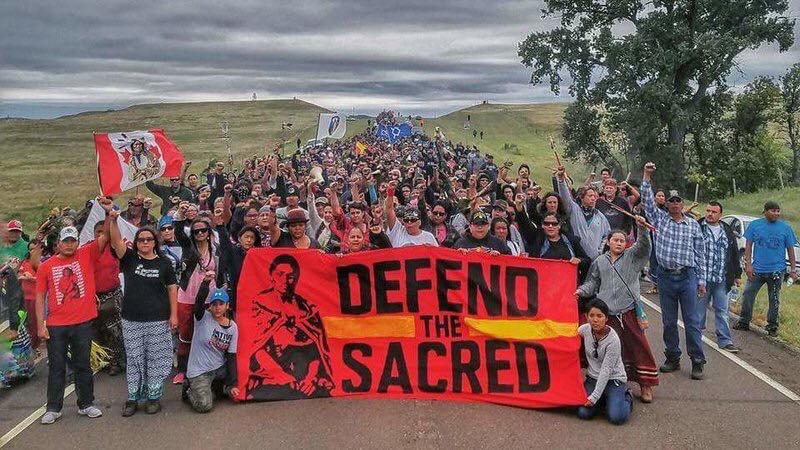 carry oil from western North Dakota to Illinois, would cross the Missouri River near the Standing Rock Sioux Reservation. The tribe — and the "water protectors" protesting alongside — say the pipeline would trammel on sacred lands and could contaminate the local drinking water supply if it leaks or ruptures. Stopping DAPL is a matter of climate justice and decolonization for....

Police used a range of potentially lethal weapons against peaceful water protectors at Standing Rock: tear gas, rubber bullets, concussion grenades, mace, and water cannons. With temperatures well below freezing, the use of water cannons has afflicted many with hypothermia—not to mention the physical pain from being blasted with high-pressure water.

Let's call President Obama and demand that he give an executive order to permanently stop the pipeline.
Let us also call the Governor of North Dakota, Jack Dalrymple, to not allow any blockage on food and supplies coming into the camp. On Tuesday, after the governor ordered the camp evacuated and a winter storm swept in, officials said they would begin blocking supplies.

The protesters vowed to stay put. In addition, the U.S. Army Corps of Engineers notified the Standing Rock Sioux Tribe on Friday that the public will not be allowed in areas being used to protest after December 5th and that anyone found on the property will be considered trespassing and subject to prosecution. 
Photos by Bilal Mahmud:  http://bilalmahmud.zenfolio.com/p589915599

Read our Chiarman's, Imam Khalid Griggs, experience at Standing Rock

How to Contact: 

President Obama: (202) 456-1111 | E-Mail

Governor Jack Dalrymple: (701) 328-2200
governor@state.nd.us | Official Website Contact Form

Donate to ICNA Social Justice

Please donate to ICNA Social Justice to help us continue to do social justice work! Your donation is tax deductible!